Wizards of the Coast D&D
From the latest news to the deepest secrets of the brand, Dungeons & Dragons articles give you the insight to more fully enjoy your game!
Updated: 2 hours 46 min ago
Type:
Features
Author:
Mike Mearls
Subtitle: Behind the ScreensBanner:
Thumbnail (869x490):
Text: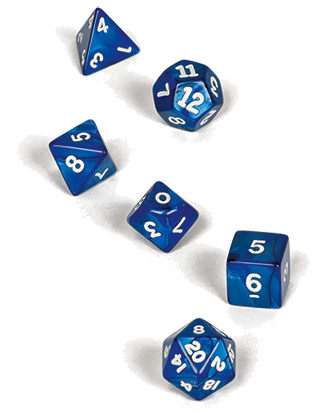 The material for this article was originally part of a presentation I made back in 2006, at a convention panel on Dungeon Master advice. Given the number of random tables that found their way into the fifth edition Dungeon Master's Guide, it felt like a great topic to go back to for this installment of Behind the Screens.
Randomness is one of the best tools at a DM's disposal. Employing randomness is a great way to maximize the return on your effort, create new game situations on the fly, and ensure that the players can never truly surprise you. The heart of effective randomness for a DM is to create tables you can roll on to answer questions during a game session, fill in details as you need them, or provide a quick blast of content when the players dart off into a random direction.
A few years ago, I ran a short campaign set in Waterdeep. Since I expected the characters to spend a lot of time in various bars, taverns, and other dens of vice, I needed an easy way to fill out the roster of barflies and lowlifes they might run into. And what I realized is that it's a lot easier to come up with six adjectives to describe characters you might find in a sleazy bar than to stat up six specific nonplayer characters, especially if the adventurers won't interact with those NPCs for long.
Here's a table I used to randomly create the patrons of a gaming parlor the adventurers visited. If the characters wanted to interact with someone other than the key NPCs I had created, I could build an NPC with four quick die rolls—one for each column on the table.
d6
Race
Gender
Current State/Winnings
Personality/Actions
1
Dwarf
Female
Drunk
Happy, unflaggingly optimistic
2
Human
Female
Big winner
Angry, looking for trouble
3
Human
Female
Big loser
Suspicious, answers questions with questions
4
Half-orc
Male
Desperate to win
Friendly, looking for a good time
5
Gnome
Male
Just started playing
Intent, curt and rude
6
Half-elf
Male
Criminal, not here to game
Bored, not really interested in the game
By setting up a similar second table, I could just as easily create the gambling hall's employees.
d6
Race
Gender
Personality/Actions
1
Dwarf
Female
New hire, nervous
2
Human
Female
Fawning, eager for tip
3
Human
Female
Nervous, skims money
4
Half-orc
Male
Quiet, wants to keep the game going
5
Gnome
Male
Arrogant, hates customers
6
Half-elf
Male
Criminal, in on the scheme
The strength of these tables comes from the fact that until the characters talk to a random patron or employee, I don't need to spend any precious brainpower thinking about the NPC. This allows me to spend my prep time creating the hall's owner, the bouncer, and the pit boss (the guy in charge of watching the dealers)—the key NPCs that I know the adventurers will interact with.
General Advice
Creating tables can save a lot of time, but it helps to have an idea of what you want to do with your tables and the effects you can achieve with them. The specific contents of a table determine its utility. If you fill a table with dull and uninspiring items, the table will produce dull results.
Recycle: Note my clever laziness in creating the tables above, where I reused the columns for race and gender. Once you have a few tables, it's easy to go back and mine them for useful adjectives and ideas. Also, since the employees weren't that important to the scenario, they got fewer columns. In the game, I expected the adventurers to deal with the pit boss, the bouncer, and the owner, which is why I detailed those NPCs beforehand. Fully fleshed-out dealers and other employees would have competed with my established NPCs in the story, so why put more energy into them?
Go For Extremes: Use traits that will stand out for the players. You might notice that in the first table, there's no option for an NPC who is breaking even. The extremes stand out, so don't have an entry for a quiet NPC. Instead, create entries that yield up characters who are mute, characters who shout a lot, or characters who speak only rare languages that the adventurers might not know. This method makes tables easier to build because it allows you to think in terms of creating opposite pairs—for example, the big winner versus the big loser in the first table above.
Avoid the Bland: Here's a good example of a mistake—in the second table, I have "Quiet, wants to keep the game going." That's not a great entry, since it has the potential to stop the interaction and make the adventurers move on. There's no point to an NPC who says nothing beyond, "Go talk to someone else. I'm boring!" When you spot features like this in your tables, revamp them to make them more interesting.
Action: Try to seed your tables with traits and ideas that prompt action in your game. In both tables above, notice how the final column gives a simple personality trait and a description of how the NPC acts. In the heat of the moment, you know how to portray the NPC to get things moving. Once everyone starts roleplaying the interaction, that initial sense of how the NPC acts can drive things from there.
Bend, Fold, and Mutilate: Don't allow random tables to dictate the adventure. Always remember that a table serves you and not the other way around. If an idea for a cool NPC pops into your head, just use it. Random tables should inspire your creativity, not replace it.
Columns, Not Rows: If you find yourself creating larger tables, try to keep them wider than they are deep. Each column of a table represents a broad type of attribute, while each row represents specific attributes within those types. It's often harder to come up with lots of different specific attributes. For example, the number of potential races for your NPCs is usually low, and it's much easier to come up with six distinct motivations for a soldier in the town guard rather than twenty. In my experience, the first few specific attributes are easy to generate, but once you need more than ten or twelve, you start to struggle for ideas.
More importantly, a table with more columns than rows actually gives you more options. For example, a table with six columns and six rows has the same number of entries as a table with three columns and twelve rows. But the first table gives you 46,656 possible combinations compared to the second table's 1,728 possible results. At the same time, creating a smaller number of rows for each table means that there's a better chance you'll actually use a specific entry you created. That's intelligent laziness in a nutshell: maximize the return on the work you do!
Take Notes: If you use a table to create a creature, location, or some other aspect of the game that is persistent, keep track of it. For example, when you create a random NPC, note the results, the character's location, and so forth. Soon enough, you might have an entire city's worth of NPCs at your disposal, each represented by a quick assortment of characteristics.
Keep it Fresh: Avoid using the same tables over and over again, and don't be afraid to create new tables by carving up your old ones. Swap individual table columns around, create new columns as needed, and rotate out specific elements that you've used a few times. Don't let your tables sit around long enough to start generating results that look too familiar to the players.
Quick and Easy Combat Color
Combat is a central component of the fun of D&D, and it's even more interesting if you can present vivid descriptions of each spell and sword blow. During the course of a fight, the monsters and characters might make dozens of attacks. That's a lot of description for a DM to create, especially on the fly, but using tables can help guide you in creating interesting battles.
The following tables are fairly simple, but they can help add color to otherwise mundane attacks.
Hit
d6
Location
Effect
1
Arm
Spray of blood
2
Leg
Growl of pain
3
Belly
Cut/crack in armor/hide
4
Shoulder
Weapon bites in, pulled out with a sharp tug
5
Torso
Crunch/crack of bones
6
Head
Target reels in pain
Miss
d6
Foe's Action
Result
1
Saw attack coming
Foe ducks
2
Defensive stance
Shield block/armor absorbs
3
Lucky move avoided attack
Foe parries
4
Skilled defensive move
Foe dodges
5
Moves fast to recover
Foe takes only a scratch
6
Last second adjustment
Foe twists away
To make things more interesting, and to vary your descriptions, try creating tables customized for specific monsters. The following tables work for attacks against zombies and similar undead. To build the tables, I just thought about what an attack against a zombie might look like and wrote down descriptions as table entries. The beauty of this is that you can think about these interesting concepts and descriptions during your prep time. During a game, it can be harder to come up with such ideas without bogging down play.
Zombie Hit
d6
Location
Effect
1
Arm
Weapon buries into flesh/collapses flesh and bone
2
Leg
Dull moan of pain
3
Belly
Dead flesh or organs spill from wound
4
Shoulder
Wound that would be fatal to living (spear in eye, skull crushed)
5
Torso
Chunk of flesh falls from body
6
Head
Internal organ bursts
Zombie Miss
d6
Result
1
Attack smashes into body but fails to damage critical parts
2
Attack bounces off bone
3
Zombie grabs at weapon
4
Bones crack/blood flows, zombie ignores wound
5
Attack hits existing wounds
6
Zombie stumbles but shrugs off attack
These sorts of tables can also be developed for combat in specific locations, not just against certain types of foes. During a bar brawl, characters might miss on attacks because of drunk patrons stumbling into them. A pool of spilled beer could cause a warrior to slip, or an attack might succeed because a foe is hit and dazed by a thrown tankard at just the right moment.
About the Author
Mike Mearls has always been lazy, and he's been a Dungeon Master for almost as long.
Publication date: 04/27/2015Introduction: Randomness is a DM's best friend when filling out the details of your adventures, but good randomness requires smart prep.Tags:
Features
external_urls: Texture banner: Hide
Type:
Features
Author:
Shannon Appelcline
Subtitle: D&D AlumniBanner:
Thumbnail (869x490):
Text: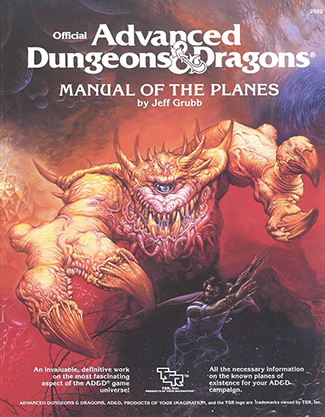 Air, earth, fire, and water elementals are as old as the D&D game, appearing in the original Dungeons & Dragons rules (1974). However, these elementals only became part of something larger when Gary Gygax introduced a cosmology for Dungeons & Dragons in Dragon magazine. In issue 8 (July 1977), he laid out an entire "Great Wheel" that included "the ultra-pure Elemental Planes of air, fire, earth and water." Those four "Inner Planes" existed alongside the material plane and the almost-elemental positive and negative material planes. Gygax didn't provide many details, but it was a first look at a cosmic conception.
The Great Wheel was officially incorporated into Advanced Dungeons & Dragons in the Player's Handbook (1978). Meanwhile, over in Dragon magazine, author Jefferson Swycaffer was contemplating other possibilities. In Dragon 27 (July 1979), Swycaffer suggested a complex set of eighteen planes. First, he introduced four new elements—cold, dry, hot, and moist—each of which lay between two of the existing elements. Then he added two new planes lying above and below the elemental planes: good and evil. Finally, he added four planes between good and the elements—beginning, fertility, light, and pleasure—and four planes that lay between evil and the elements—barren, darkness, ending, and pain. The result was an elemental globe.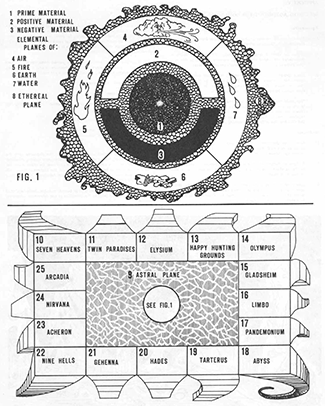 Though Swycaffer's elemental planes were totally unofficial, Gygax liked the idea. In Dragon 32 (December 1979), Gygax said that he also had been thinking about the elemental "borderlands." He revealed the results in Deities & Demigods (1980), which contained the first official expansion of the elemental planes. Now four paraelemental planes lay between the various elemental planes: ice between air and water; dust between air and fire; heat between fire and earth; and vapor between earth and water.
Three years later, the elemental planes grew again. It started in April with the publication of the adventure The Land Beyond the Magic Mirror (1983), which featured a new monster called the lightning quasielemental, said to inhabit "the Elemental Plane of Air and the Positive Material Plane." Gygax explained the expanded elemental cosmology more fully in Dragon 73 (May 1983), published around the same time. Swycaffer's elemental globe had become an elemental cube, with the elemental planes and paraelemental planes around the middle, the positive material plane at the top, and the negative material plane at the bottom. The brand-new quasielemental planes lay between the traditional elemental planes and the two energy planes—which Swycaffer had replaced with good and evil in his own model. There were thus eight quasielemental planes. The positive side of things contained lightning (near air), steam (near water), radiance (near fire), and mineral (near earth), while the negative side included vacuum (near air), salts (near water), ash (near fire), and dust (near earth).  
Later that year, Monster Manual II (1983) revealed a complete set of paraelementals, though three of the names were changed: a smoke elemental rose from the dust plane, a magma elemental rose from the heat plane, and an ooze elemental rose from the vapor plane. The book also reprinted the lightning-based quasielemental.
The elemental planes as imagined by Gary Gygax for AD&D had reached their ultimate form. Jeff Grubb then produced a final supplement to Gygax's primordial elements in Manual of the Planes (1987). That book devoted nearly forty pages to the eighteen Inner Planes, including the paraelemental and quasielemental planes. Author Jeff Grubb even got to stat up the missing quasielementals in Dragon 125 (September 1987) and Dragon 128 (December 1987).

Elemental Adventures: 1979–1989
Elemental monsters like those that appeared in original D&D, the Monster Manual, and Dragon magazine were the height of elemental adventuring in the 1970s and 1980s. The elemental planes were seen as a dangerous and inhospitable place, so adventurers didn't go there. Instead, elemental adventures occurred when the elemental planes intruded on the material plane.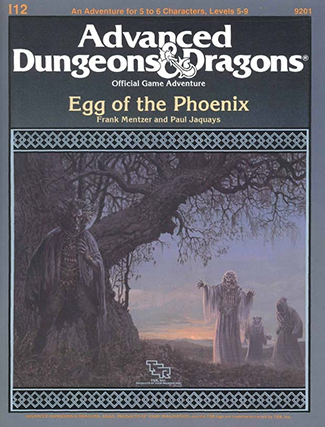 This idea was made explicit with the Elemental Princes of Evil, an original set of elemental monsters by Lewis Pulsipher that first appeared in the Fiend Folio (1981). Frank Mentzer saw their potential and used four of them—Imix, Ogremoch, Olhydra, and Yan-C-Bin—in the RPGA adventure The Egg of the Phoenix (1982), later collected as part of the TSR adventure module Egg of the Phoenix (1987). It was the first major encroachment of the elements into the world of D&D adventuring.
Meanwhile, Gary Gygax was working on his own elemental adventure. Though The Village of Hommlet (1979) hinted at the topic, it took several years until The Temple of Elemental Evil (1985) revealed Gygax's full elemental plan. Instead of elemental monsters or elemental gods, Gygax focused on a new way to bring the elements to the world of D&D. The eponymous temple contains four elemental nodes, described as "cauldrons, used to mix evil and elemental forces in an unholy recipe." In other words, each node was an elemental miniplane that allowed for exciting elemental adventuring without facing the deadly rigors of the actual Inner Planes.
Other than a short adventure for each elemental plane in Tales of the Outer Planes (1988), that was the extent of elemental adventuring prior to the advent of AD&D second edition in 1989.
Elemental Settings: 1991–1998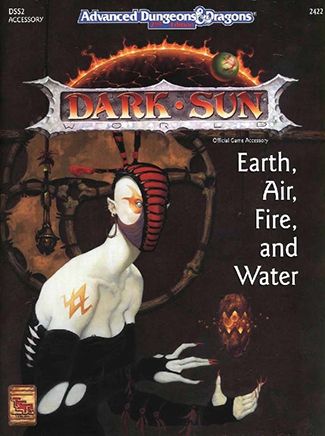 The 1990s saw the development of a plethora of new settings for D&D, many of which were able to incorporate elemental themes more fully than the adventures of the 1980s. Whether you wanted to travel to the elemental planes or to feature elementals more in material plane adventuring, the 1990s had what you desired.
The Dark Sun campaign setting (1991) used the old trope of bringing the elements to the PCs, but it did so in an unusual way that gave them particular prominence. There were no gods in Dark Sun's world of Athas, so priests instead worshiped elemental powers. Though this idea was with the setting from the start, it received extended attention in D&D's first-ever elemental supplement—Earth, Air, Fire, and Water (1993), a resource for Dark Sun players.
Earth, Air, Fire, and Water also introduced the paraelemental priest, who worshipped those elements lying on the borders. However, Dark Sun's paraelements were different from those defined by Gary Gygax—revealing that the Dark Sun setting broke with D&D's core cosmology. Its paraelementals were instead based on natural phenomena: rain lay between air and water; sun between air and fire; magma between fire and earth; and silt between earth and water.
The Al-Qadim campaign setting (1992) didn't place the elements in such a central role, but the adventure Secrets of the Lamp (1993) did give special attention to one location on the Elemental Plane of Fire. That was the City of Brass—the great settlement of the efreet that had appeared on the cover of the first edition Dungeon Master's Guide (1979). The city received initial attention in the late 1980s when it was briefly mentioned in Manual of the Planes (1987). Shortly afterward, it appeared in a pair of adventures: an unpublished RPGA tournament by Rob Kuntz called To the City of Brass (1987) and a short adventure in Tales of the Outer Planes (1988) called "Through the Fire." These adventures demonstrated why the City of Brass was interesting. Though located in the Elemental Plane of Fire, it was a livable location and not just a place of wild flames—which made it perfect for adventuring.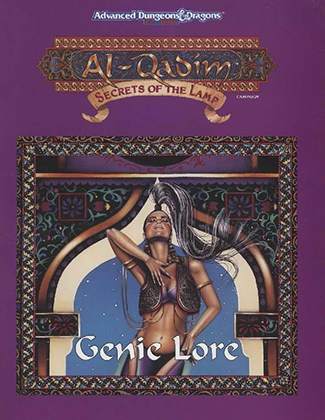 Planescape (1994) was the last setting of the 1990s to place an emphasis on the elements. One of its core mandates was to make all the planes more playable, so for the first time ever, players would have regular opportunities to visit the elemental planes, rather than having the elements of the planes come to them.
All sixteen elemental planes got some attention in the Planescape Campaign Setting (1994). Then the designers immediately put those ideas to work in the first Planescape adventure, The Eternal Boundary (1994), which includes a trip to the Elemental Plane of Fire. Taking a page from Al-Qadim, The Eternal Boundary takes players to a set, civilized locale—a "citadel of fire." However, the elemental planes only really came into their own with the publication of the Planescape expansion The Inner Planes (1998), which devoted a full chapter to each of the sixteen planes. By focusing on the inhabitants and numerous sites of each plane, the book provided a sound basis for adventuring—one that remains a useful primer on the elemental planes to this day.
Modern Elementals: 2000–Present
In the last few editions of D&D, the elemental planes have been ever-changing.
D&D third edition (2000) gave the elemental planes their spotlight in a new Manual of the Planes (2001). The overall structure of the elemental planes and the energy planes was similar to that found in Planescape, but the paraelemental and quasielemental planes were described only as places where elements and energies mixed. They were no longer named nor detailed.
D&D fourth edition (2008) reinvented the Dungeons & Dragons cosmology, and the elemental planes became part of the Elemental Chaos. As explained in the newest iteration of Manual of the Planes (2008), the Elemental Chaos was the "raw material of creation." Now instead of being theoretical building blocks, the home of the elements was clearly linked to the reality of the material plane itself. However, the Elemental Chaos was more than just the former elemental planes. It was also home to many different planar creatures, from the primordials (including the elemental princes) that shaped the world, to the demons that lived in the Abyss that was an adjunct of the Elemental Chaos. Despite these changes, the elemental planes' prime destination—the City of Brass—survived the transition.

Fourth edition D&D's cosmology—known as the World Axis—was well integrated into the game, providing power sources, character themes, and background settings alike. As a result, the elemental planes of fourth edition received the best attention since the end of the Planescape setting. More details on the elements appeared in The Plane Below: Secrets of the Elemental Chaos (2009), while players could access elemental-influenced powers following the publication of Heroes of the Elemental Chaos (2012).
D&D fifth edition (2014) largely returned to the older Great Wheel cosmology, but the Inner Planes retain aspects of the World Axis. The four elemental planes are back, but they remain tightly integrated with the material plane as its creative foundation. The paraelemental planes have also returned for the first time since Planescape, but they have more evocative names. The Plane of Ash is known as the Great Conflagration, the Plane of Ice is the Frostfell, the Plane of Magma is the Fountains of Creation, and the Plane of Ooze is the Swamp of Oblivion. Additionally, the Elemental Chaos is the churning realm within which the Inner Planes are held.
This organization reflects Mike Mearls's goal to make the elemental planes "places to visit and explore"—a notion influenced by the writings of Michael Moorcock and Roger Zelazny. As a result, the elemental planes are more habitable toward their interiors where they touch the material plane, and weirder toward their outskirts as they descend into the Elemental Chaos.
Making the elemental planes a destination for adventuring is a noble goal—because making those planes playable is something that D&D has been striving toward for a full forty years.

About the Author
Shannon Appelcline has been roleplaying since his dad taught him Basic D&D in the early '80s. He's the editor-in-chief of RPGnet and the author of Designers & Dragons, a four-volume history of the roleplaying industry told one company at a time.
Publication date: 04/23/2015Introduction: The elemental planes have long been a source of adventure in Dungeons & Dragons. Princes of the Apocalypse marks D&D's latest delve into the world of the elements—a constant presence within the game since its inception.Tags:
D&D Alumni
external_urls: Texture banner: Hide
Type:
Features
Author:
Dan Helmick
Subtitle: Behind the ScreensBanner:
Thumbnail (869x490):
Text:
When Wizards of the Coast released the d20 Modern roleplaying game in 2002, I was in heaven. Gnolls in crushed velvet! Ogres decked out in London Fog overcoats! Living dumpsters that ate people!
I was crazy about the Urban Arcana campaign setting in particular. The scenario was a familiar one, seemingly plucked from my own daydreams. D&D monsters and magic (called "Shadow" within the setting) are finding their way into our world. The vast majority of humankind remains largely ignorant of this development, thanks to our awesome capacity for denial. Only a small number of humans and friendly Shadowkind races can even perceive—much less combat—the threats that such an incursion brings.
I ran my Urban Arcana campaign for six years. By that point, other games had clamored for my attention, but I never forgot how interested I was in the marriage of D&D to urban fantasy. When the fifth edition Dungeon Master's Guide was released last December, I knew without a doubt that my first homebrew setting using the new rules would be an updated take on Urban Arcana, adapting firearms and modern armor for use in an urban fantasy game.
Rules of Engagement
The Dungeon Master's Guide provides optional rules for firearms in D&D—including modern and even futuristic weapons. However, this left me in a quandary regarding character defenses. In a typical fantasy setting, adventurers, guards, and other possible combatants are fully expected to wear armor. There are no social penalties when characters are observed in full armor while going about their business. Modern settings are a different animal in this regard.
Using the old d20 Modern Core Rulebook as a guide, and tweaking the math for fifth edition, I created armor options for my "5e Modern" campaign. Because it can be assumed that most characters operate undercover, incognito, or simply in an unobtrusive manner for at least part of the time, I made sure that those options included concealable armor. More obvious armor—whether riot armor, flak jackets, or Land Warrior milspec armor—will likely have an affect on characters' social ability checks and their ability to move freely in your campaign. By that same token, armor might afford bonuses to Charisma (Intimidation) checks.
Modern Armor
Armor
Armor Class (AC)
Strength
Stealth
Properties
Weight
Light Armor
Heavy coat
11 + Dex modifier
—
Disadvantage
—
6 lb.
Leather jacket
11 + Dex modifier
—
—
—
4 lb.
Light undercover shirt
11 + Dex modifier
—
—
DR/2 ballistic
2 lb.
Kevlar-lined coat
12 + Dex modifier
—
—
DR/2 ballistic
8 lb.
Undercover vest
13 + Dex modifier
—
—
DR/2 ballistic
3 lb.
Medium Armor
Concealable vest
13 + Dex modifier (max 2)
—
—
DR/3 ballistic
4 lb.
Light-duty vest
14 + Dex modifier (max 3)
—
—
DR/3 ballistic
8 lb.
Tactical vest
15 + Dex modifier (max 2)
Str 10
Disadvantage
Resistance: ballistic
10 lb.
Heavy Armor
Special response vest
15
Str 10
Disadvantage
Resistance: ballistic
15 lb.
Land Warrior armor
17
Str 13
Disadvantage
DR/5 ballistic/slashing
10 lb.
Forced entry unit
18
Str 13
Disadvantage
Resistance: ballistic/slashing
20 lb.
As you can see from the table, many of the heavier armors grant damage reduction (DR) or resistance to several damage types, including a new damage type: ballistic damage. In game terms, ballistic damage is the type of damage that firearms inflict, and is a subset of piercing damage. This means that all ballistic damage counts as piercing damage, but not all piercing damage counts as ballistic damage. Magical effects or creature properties that grant resistance to piercing damage also apply to ballistic damage, but effects or properties reducing ballistic damage do not automatically apply to piercing damage.
(Armor in my game currently has no price because my modern ruleset uses a wealth system for characters, similar to that used in d20 Modern. Characters gain equipment based on their wealth, rather than tracking income and expenses. I won't get into the full system here, but it might make a good topic for a later installment of Behind the Screens.)
Who Gets What?
Because of the high potential damage granted to firearms, it was also necessary to introduce a complication or condition in order to balance their use with more traditional modes of attack. In my campaign, a character proficient with a firearm does not automatically add any proficiency bonus to the attack roll. Rather, proficiency with a firearm allows a character to use a bonus action to take the aim action, which adds the character's proficiency bonus to the attack roll. Without taking the aim action (or if a character is using a firearm without proficiency), the shooter receives only the benefit of a Dexterity bonus on the attack roll.
When it came to weapon proficiencies, I decided that several classes would enjoy proficiency with firearms, while others would have to earn their proficiency with multiclassing or by training through the use of downtime days (see the Player's Handbook). I divided firearms into two basic classes: sidearms (for anything up to a submachine gun) and long arms (for anything up to a light machine gun.) Anything heavier—such as a heavy machine gun, a rocket-propelled grenade launcher, or a flamethrower—is given special dispensation according to the in-game situation. In my own campaign, I created a feat called Heavy Weapon Specialist that allows proficiency in all modern weapons heavier than a medium machine gun wielded by an unassisted individual on foot. I also made this feat available as a fighting style for the fighter class.
Firearm Proficiencies by Class
Class
Firearm Proficiency
Bard
Sidearms
Barbarian
Long arms
Cleric
None (though possibly granted through domains such as City or War)
Druid
None
Fighter
Long arms and sidearms
Monk
Sidearms
Paladin
Long arms and sidearms
Ranger
Long arms and sidearms
Rogue
Long arms or sidearms (chosen at character creation)
Sorcerer
None
Warlock
None (though sidearms and long arms can be created through the Pact of the Blade class feature)
Wizard
None (though sidearm proficiency might be granted through the School of Technomancy)
Hold up! City Domain? School of Technomancy? I'll get into those next time!
About the Author
Daniel Helmick is a contractor attached to the Dungeons & Dragons R&D department, formerly of the D&D Insider studio at Wizards of the Coast. He has contributed numerous articles and adventures to Dungeon and Dragon magazines, as well as the Tyranny of Dragons and Elemental Evil Adventurers League programs. He's thinking about getting a cat, but he's torn between the names Trapspringer and Dragonbait.
Publication date: 04/13/2015Introduction: I'm a longtime D&D player, but I'm also a sucker for urban fantasy. With the Dungeon Master's Guide and some tweaking, I've begun to use the fifth edition rules to explore the possibilities of gunplay in a modern fantasy setting.Tags:
Features
external_urls: Texture banner: Hide
Type:
News
Author:
Greg Tito
Subtitle: Roll virtual dice with your friends all over the world!Banner:
Thumbnail (869x490):
Text:
We are happy to announce Wizards of the Coast has partnered with SmiteWorks to bring Dungeons & Dragons to the virtual tabletop Fantasy Grounds. All of the rules, classes and monsters available in the core rulebooks has been skillfully converted to be usable within Fantasy Grounds. Fight cunning beholders and ancient red dragons with your long-distance friends! Roll that virtual d20 with advantage!
Fantasy Grounds is an application developed by SmiteWorks to help gamers play tabletop role playing games over the internet. Players can download the Fantasy Grounds client, available from FantasyGrounds.com or from Steam, and log in to your Dungeon Master's specific table. The DM runs the game like any other D&D session, with mapping, combat and skill checks all automated through Fantasy Grounds. One of the greatest experiences in Fantasy Grounds is rolling 3D animated dice and having the results shown to the whole table. The drama of rolling that natural 20 against the big ogre about to pummel your friends is the same as if you were physically sitting together.
You can purchase the D&D Complete Core Class Pack with all the class, feats, spells and equipment or you can purchase individual classes based on what your party is using. You can also buy the monsters in packs separated by monster type like aberrations or dragons or as the D&D Complete Core Monster Pack. All of these packs have been converted to work tightly with Fantasy Grounds to give you the best possible gaming experience. Each pack contains all the great artwork and content from the official products published by Wizards. Not only will you get the same content that can be found in print, but you also get an exciting new theme for the client, as well as adventures and content customized specifically for ease of play inside of Fantasy Grounds.
Right now, you can check out all of the packs available on the Fantasy Grounds website, or purchase them through Steam. The adventure found in the D&D Starter Set—the Lost Mine of Phandelver—is available for purchase now, and SmiteWorks will be bringing the Tyranny of Dragons and Elemental Evil storylines.
For Dungeon Masters and players on a budget, you might pick up a Player Customization Pack and one or two Class Packs of your choice. Dungeon Masters can often get by with just the Adventure of their choice and one or two Monster Packs. Don't forget that players can gift purchases through Steam for Dungeon Masters who have linked their license on Steam.
Try a demo of Fantasy Grounds today and check out the D&D offerings!
Screenshots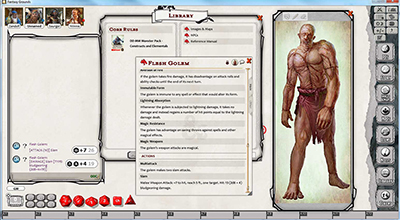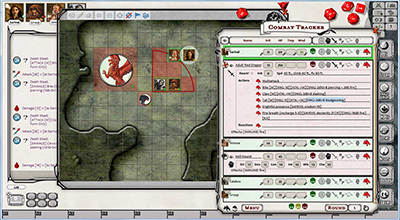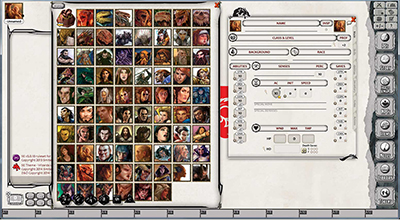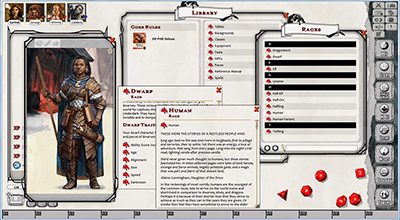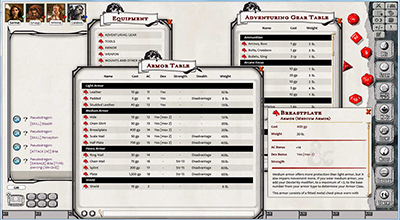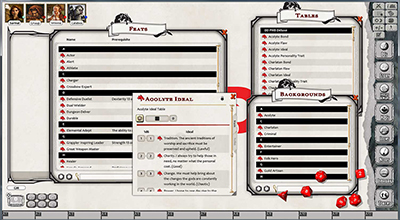 Publication date: 04/08/2015Introduction: The Fantasy Grounds Virtual Table gives Dungeon Masters and players all the tools they need to play D&D over the internet. Mix and match class and monster packs, create your own adventures and encounters or play published modules with all your friends no matter how far away they live.Tags:
News
external_urls: Texture banner: Hide
Type:
News
Subtitle: Exclusive D&D item in fantasy themed Loot CrateBanner:
Thumbnail (869x490):
Text:
Opening a Loot Crate is kind of like opening a treasure chest in Dungeons & Dragons except you don't have to ask Fat-Fingers Bob to check for traps first. In this month's fantasy Loot Crate we've added an exclusive piece of D&D loot that you and your party will definitely want to have while you're out adventuring - whether it's in a dungeon, on a screen, or at your favorite hang-out!
And since you're such accomplished adventurers, we're going to give you a little bonus. Head over to lootcrate.com/dnd now and enter in the code: DUNGEONS for $3 off!
You have until April 19th to get the fantasy themed Loot Crate, so take a break from rolling dice or viciously mouse-clicking on those kobolds to head over and sign up now.
Publication date: 04/07/2015Introduction: Make sure you sign up for the April Loot Crate if you want to get this month's surprise D&D gift!Tags:
News
external_urls: Texture banner: Hide

Lords of Tyr by Chad Sutton is licensed under a Creative Commons Attribution-Noncommercial-Share Alike 3.0 United States License.